A Very Special Proposal
Michael & Greg–I promised I would send all the romantic details of our proposal so here goes:
The night before proposal weekend Kenny handed me an airline ticket and an envelope. The front of the envelope read "open 15 minutes into flight". I flew from Abilene to DFW and as soon as the wheels were up I ripped open the letter to find out what was next.
Kenny had arranged for a driver to pick me up at the airport. The driver took me to Omni Mandalay at Los Colinas. Once inside I was instructed to see the concierge who would have another envelope for me. Inside that envelope was a key to a suite on the top floor of the hotel. Inside the room was a cheese/fruit tray, bottle a wine and yes…another note. This note instructed me to take some time to relax, take a hot bath and get ready for our night out. He added that every beautiful woman should feel beautiful so he arranged for me to have a manicure and pedicure at the spa (he knew I'd want my nails looking perfect for this amazing ring!)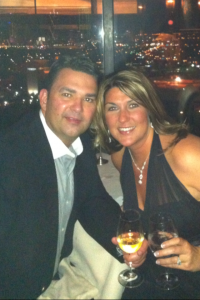 Kenny picked me up at the spa with a bottle of our favorite wine in hand and 2 wine glasses. He had arranged for us to have a private gondola ride in the canals at Los Colinas. He also hired a professional photographer to capture every moment of our journey. It was sunset and the weather could not have been any more perfect! Toward the end of our gondola ride the gondolier had noticed something floating in the water, he picked it up and handed it to me….a message in a bottle! It was a letter that Kenny had written me that said how many years, months, weeks, days he has loved me and how many seconds he had dreamed of being my husband (71 million seconds in case you were wondering). I cried before I ever read the letter, just knowing all the thought he had put into making me feel loved and special was so moving.
We went back to our room so I could fix my tear smeared make-up before dinner. Kenny told me he was going down to get the car and would come back to get me. About 3 minutes later the doorbell on our suite rang….I answered thinking he would be on the other side. Instead, I found the concierge, who said "Mr. Shuler asked me to escort you downstairs". I was beaming! Who does this? How romantic! I got on the elevator and once we reached the lobby level I was directed to proceed to the left where the concierge opened a big glass door and instructed me to "follow the rose pedals". WOW!!!!!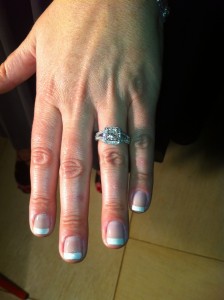 Now, this was not just a few sprinkles of rose pedals along a path, this was a flower shop explosion of rose pedals!!! The path was lined with candles that lead me to an outdoor terrace. There stood Kenny with the most beautiful backdrop of candles, flowers, and lights. It was like a wedding! He knows how much I love "The Bachelor" on ABC so he had basically recreated the final rose ceremony for us. He said some very loving and sweet things, asked me if I would accept this final rose, and got down on one knee and asked me to be his wife! He slid the amazing "Designs by Flora" ring on my left hand and I of course said YES!
We ended the night with dinner at Nana's at the Hilton by Market Hall and then retreated back to our suite where we found our bed covered in rose pedals, a dozen chocolate covered strawberries, and a bottle of wine! The entire weekend was literally a DREAM.
The ring is AMAZING! I honestly can't express to you how much I love it! It draws attention where ever I go! I was blown away at how beautiful it is. I could barely sleep the first night I had it, I would wake up and just look at it with the glow of my cell phone light. I never get tired of looking at it! Thank you for creating such an amazing ring that I get to enjoy for a lifetime! I'm honored to wear such a fine piece of jewelry! Its a dream come true with the love of my life!
Here are a couple candid pictures of the 2 of us. Thanks again for everything you have done to help make this event so special!
Pure Customer Satisfaction
"I would like to take this opportunity to commend Designs By Flora both personally and professionally.
Everything about Flora's is pure customer satisfaction and truly makes you feel like you're his single most important customer. From the smallest of purchases to the largest I can afford, the whole team at Designs by Flora treat each transaction as their most important. Always welcoming and happy to take my call, I have come to depend on no other for my piece of mind.
I look forward to many years to come of their business and being a customer."
- Tyler Cortner
Very Pleasant Experience!
"Thank you guys for meeting with us on a Saturday and making it a very pleasant experience!!! You guys are very professional, but also lots of fun! I really enjoyed meeting you and of course, can't wait for the ring! (haha) Thanks again!" – Ashton Fitzpatrick
Makes you feel like a VIP even when you are just looking! – Penny Wiggs
Read More Here